Universal Door & Equipment Ltd.
All Types of Doors &
Dock Levelers
Est. 1974
When you think of an overhead door, you might be thinking about the classic rolling steel door, but here at Universal Door & Equipment Ltd, we can broaden your horizons, and provide you with the door solution that works for your space. Our team has been working in the overhead door industry for a few decades, and over the years, we have been proud to be considered a top Toronto overhead door company.
Our services focus on delivering larger overhead doors Toronto, and the accessories to make your loading space, factory or warehouse, efficient and secure. We are more than just a sales group, the team at Universal Door & Equipment Ltd are your trusted door service provider, and can repair, and service your doors and accessories to ensure that they last for years to come.
Besides our great selection of rolling steel doors, we are also proud to offer the following accessories and other products that will improve your space and speed up your productivity.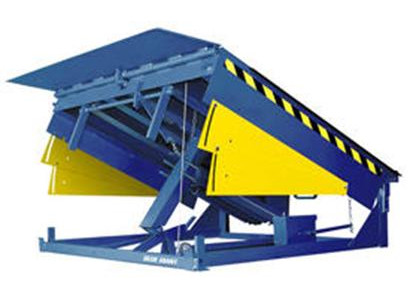 Dock Levelers. If you are bringing in or shipping out product, you might be dealing with a wide variety of trucks. As no two vehicles are the same, and a dock leveler will help your team load at varying heights which will help save time and save your team the stress of handloading some of the smaller trucks they handle.
Security Gates. If you are taking in shipments, you should consider a safety door to prevent malicious deliveries from fraudsters. Sliding security gates allow you to confirm the identity of the person driving the vehicle and provides an additional entry without the need to roll up the door for paperwork. These doors are made of high strength steel and are easily alarmable.
No matter if you are looking for a door service or are interested in investing in new doors in Toronto, the team at Universal Door & Equipment Ltd, are here for you. With our years of experience in the field, and some of the best North American products in the Greater Toronto Area, you and your overhead door will be in good hands. Give us a call today, and see how Universal Door & Equipment Ltd can help install, service or repair your Toronto overhead doors with ease!
Overhead Door
Overhead doors in Toronto are a secure and easy-to-use access point for several different spaces. It's standard to install an overhead door in the following types of buildings: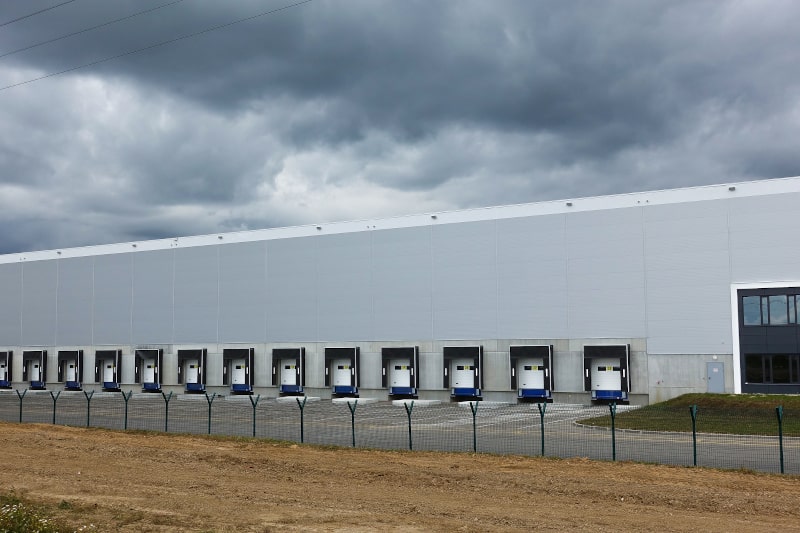 Residential and commercial garages
Loading spaces
Factories
Parking facilities
Warehouses
Research facilities
There are both specialized steel insulated overhead doors and standard commercial overhead doors. Commercial overhead doors are usually found in warehouses and seal the opening to a plant floor or loading dock.
In Toronto, an insulated overhead door is a perfect solution during the winter months to trap heat inside a large warehouse. During the summer months in Toronto, they can help regulate temperatures. They are also great for muffling and controlling noise levels within a space.
To install an overhead door, you must first outfit the door frame with a railing and tracks that allow the door to travel up and down smoothly. Next, install a roller that allows the door to roll up above the opening. You can install an overhead door in Toronto with automation, but you'll also need to ensure it opens manually in case of a power outage.
You'll need an easy-to-use transmitter or similar system to open an overhead door with automation. This allows for a wireless, hassle-free experience that lets you enter your facility as often as you need without a fuss. In the case of a commercial parking garage, overhead doors may open with sensory technology and other functions that allow cars to frequently enter the garage.
A belt or chain drive allows the door to open, and the industrial ball bearings on the output shaft let the door open smoothly with an electric operator. If you need to open it manually, you may need to trigger a manual release function and lift it from the bottom. If you don't know how to manually open an overhead door for a warehouse or similar facility, it's a good idea to request services from a technician to understand what to do in the case of a power outage.
Rolling Steel Doors for Commercial and Industrial Use in Toronto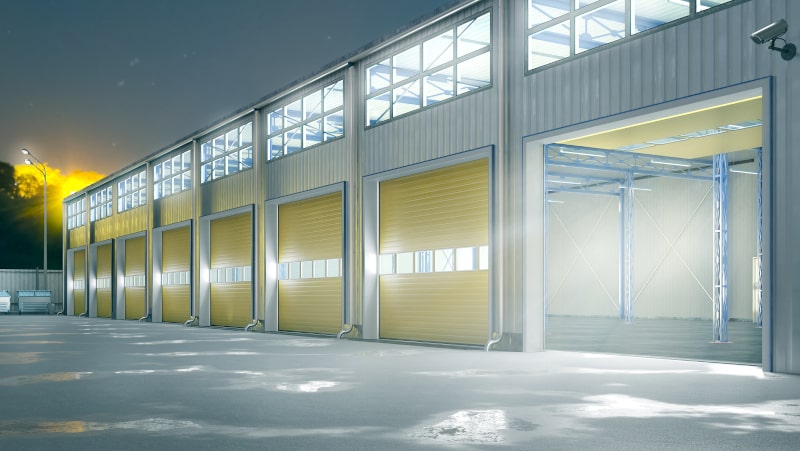 A rolling steel door may be the best option for attractive commercial overhead doors in Toronto. Suppose you're looking to upgrade your commercial overhead door in a factory or warehouse with a sleek, reliable, and durable barrier that's also cost-efficient and offers excellent security: in that case, rolling steel doors may be the way to go.
A commercial overhead door with rolling steel gates offers incomparable durability when considering your options for commercial overhead doors. They are made with incredibly strong slats of either stainless steel, galvanized steel, or aluminum. They are easy to raise and lower and slide smoothly into a coil when not in use.
Their impenetrable strength comes from the oil-tempered torsion springs, lasting for over 50,000 life cycles. The steel brake brackets are, at minimum, ¼" thick. This incredibly durable commercial overhead door also comes with cast iron stops, heavy-duty cast gears, structural angle guides, and a bottom bar.
The ease of operation with a rolling steel commercial overhead in Toronto comes from operational choices. You can choose from a push-up, chain, crank, or motor. To enjoy your rolling steel overhead door to the fullest, make sure a highly-trained technician installs it for you.
We offer commercial overhead doors and garage doors at unbeatable prices. We also have other doors such as rolling and sliding grilles and passage doors and frames, and crucial accessories you need to open your doors, such as electric operators and jackshaft operators (making your rolling steel doors more efficient).
Whether it's a commercial overhead door or a garage door, we can guarantee excellent installation and maintenance services and provide you with all of the knowledge you need to use your door every day without any problems.
Call now at 647-499-4347 or click here to request a free quote!
Copyright 2023 Universal Door & Equipment Ltd. | Best Overhead Doors in Toronto
|
|