Universal Door & Equipment Ltd.
All Types of Doors &
Dock Levelers
Est. 1974
Dock Weather Seal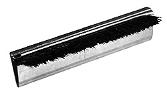 Why You Should Add Dock Weather Seal to Your Loading Dock
More and more business owners are realizing what a difference the right dock weather seal makes on a loading dock. Designed to provide a powerful barrier that minimizes air flow around and under dock levelers, this simple addition provides quite a few benefits. Best of all, it takes no time to install the seal and begin enjoying those advantages.
One of the primary benefits offered by these dock accessories is preventing dirt and grime from collecting in the dock leveler. Contaminants ranging from snow to leaves to dust can easily blow under a ramp when the leveler is in use. Over time, they can interfere with the ramp function and cause a lot of damage. By installing the seal, you create a barrier that keeps most contaminants out. Your dock maintenance and repair costs are reduced as a result.
Copyright 2022 Universal Door & Equipment Ltd. | Best Overhead Doors in Toronto
|
Universal Door & Equipment Ltd.
" We've made another order and are totally satisfied with the high quality machines of the Universal Door & Equipment Ltd. Will for sure be using them again. Wonderful job, thanks a lot! "