Universal Door & Equipment Ltd.
All Types of Doors &
Dock Levelers
Est. 1974
Dock Lights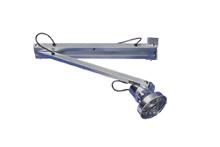 Safety and Security are Yours With the Right Adjustable Dock Lights
It's one thing to use a fork lift for loading or unloading a trailer when the sun is shining bright. What happens on a cloudy day or if the trailer needs attention after dusk? Attempting to move the goods can be dangerous.
The solution is to outfit the dock with adjustable lighting. Along with fixed lighting designed to illuminate the dock overall, you do need precision lighting for seeing into the trailers. The right set of dock lights can be adjusted to ensure there are no shadows or blind spots. As a result, it's easier to move a lift into position, safely pick up a pallet of goods, and remove them with ease.
Copyright 2022 Universal Door & Equipment Ltd. | Best Overhead Doors in Toronto
|
Universal Door & Equipment Ltd.
" Completely satisfied with the high quality and long-lasting appliances of this professional company. Will be able to recommend these guys with confidence. Thanks a lot and keep it up! "