Universal Door & Equipment Ltd.
All Types of Doors &
Dock Levelers
Est. 1974
Wheel Chocks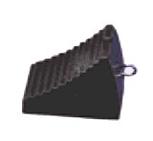 Why You Should Invest in Wheel Chocks
Wheel chocks are one of the simplest and most effective accessories you will ever find. Designed to prevent a vehicle from rolling while it is being repaired, these devices also come in handy on your loading dock. Adding chocks of that are the right size adds more stability as your employees use fork lifts to load and unload goods.
You will find these dock accessories available in several different types of materials. Polyurethane and wood are two of the most popular. You can find metal chocks although they are generally less popular due to the difficulty in moving them into position. Wood chocks are typically coated with a protective sealant to slow the process of deterioration. Polyurethane chocks are designed to resist crack and chipping. That makes them one of the better choices.
Copyright 2022 Universal Door & Equipment Ltd. | Best Overhead Doors in Toronto
|
Universal Door & Equipment Ltd.
" What an amazing service, we are so delighted with the cost efficient equipment of this experienced company. Will be able to recommend these guys with confidence. Wonderful job, thanks a lot! "