Universal Door & Equipment Ltd.
All Types of Doors &
Dock Levelers
Est. 1974
The PredaDoor Model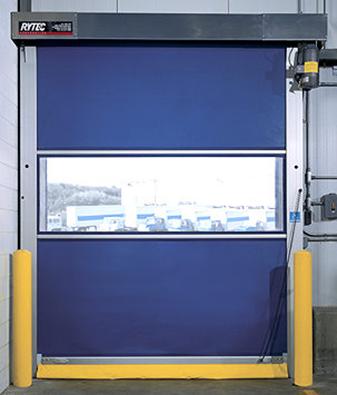 The Industry's Most Popular Door
A Product of the Year award-winner, the PredaDoor roll door is the most popular high-speed door in the industry. That's because its simple, direct-drive operation and supreme reliability have enabled it to be applied successfully in a vast array of applications. And today, the addition of the System 3™ controller, with its integrated variable speed AC Drive system for soft acceleration and braking, makes it more dependable and durable than ever.
Plus, the PredaDoor offers the added safety and versatility of full-width replaceable window panels or optional screen panels. For general applications, it's the best value in the business.
Fast – Opens at up to 50 inches per second for improved traffic flow.
Safety - Full-width, replaceable PVC window panel (or optional screen panel) for great visibility. Standard features include reversing edge in bottom bar and two electric photo eyes.
Takes a Hit – Quick-Set™, Break-Away™ tabs allow bottom bar to be reset without tools in just seconds, virtually eliminating door downtime.
Low Profile - Only 6-1/4 inches of side clearance and 3-3/4 inches of side column projection required. Fits virtually anywhere.
Wind Resistance - Integral panel connecting ribs provide resistance to wind and negative pressure. Also allows for quick, inexpensive replacement of all panel sections. Optional rigid, 2-ply or 3-ply Rilon™ available for high wind exterior applications.
Copyright 2022 Universal Door & Equipment Ltd. | Best Overhead Doors in Toronto
|
Universal Door & Equipment Ltd.
" Completely satisfied with the long-lasting models of this trusted company. Will for sure be using them again. Great job, thank you! "