Universal Door & Equipment Ltd.
All Types of Doors &
Dock Levelers
Est. 1974
The Bantam Model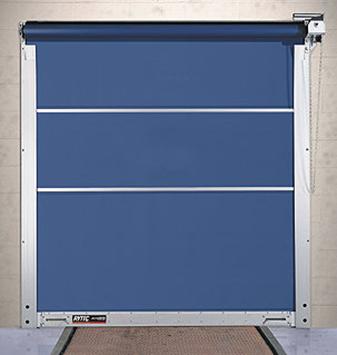 The Economical Dock Door Alternative
The Bantam roll door is an economical fabric door alternative to high maintenance overhead dock doors. With the same crisp lines and fabric selection as our popular PredaDoor®, it looks great too. It can also be used for interior or exterior applications with low traffic volume.
With manual operation standard via a pull-chain hoist, the Bantam can also be motorized for pushbutton open and closing if desired.
Visibility – Provided by standard 17 inch by 17 inch replaceable PVC vision panel. Full-width vision panel is optional.
Takes a Hit –Break-Away™ tabs can be reset in just seconds.
Easy Installation – Modular construction allows for quick and easy installation.
Simple Operation – Chain hoist and speed governor make for easy manual door operation.
Minimal Space – Only 6-1/4 inches of side clearance and 3-3/4 inches of frontal projection required.
Wind Resistance – Integral panel connecting ribs provide resistance to wind and negative pressure. Also allows for quick, inexpensive replacement of all panel sections.
Copyright 2022 Universal Door & Equipment Ltd. | Best Overhead Doors in Toronto
|
Universal Door & Equipment Ltd.
" We're absolutely thrilled with the energy saving products of this Toronto based overhead door company. Will be able to recommend these guys with confidence. Wonderful job, thanks a lot! "