Universal Door & Equipment Ltd.
All Types of Doors &
Dock Levelers
Est. 1974
The Fast Seal Model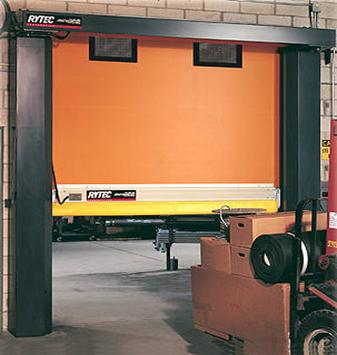 The Door That Revolutionized the Industry
When it was introduced with the first-ever Break-Away™ bottom bar, the Fast-Seal high-speed roll door changed the industry forever. Suddenly, a roll door was able to take a hit without suffering damage.
It is this concept around which the industry has grown, but no other manufacturer has matched the dependability or durability of the Fast-Seal with the original Break-Away bottom bar. Which is why it remains the most popular door on the market today.
Fast – Opens at up to 50 inches per second.
Safety – Dual electric photo eyes in side column and reversing edge in bottom bar. Optional, replaceable window panels for visibility.
Takes a Hit – Break-Away bottom bar repairs quickly without tools.
Easy Installation – Modular construction and pre-wiring allows for quick installation.
Full Tension – Patented System II™ design provides proper counterbalance and tension at all times.
Low Maintenance – System II design comes with a lifetime warranty on all counterweights and tension springs.
Copyright 2022 Universal Door & Equipment Ltd. | Best Overhead Doors in Toronto
|
Universal Door & Equipment Ltd.
" We were searching for the high end technology solution for our business project, we came to the right place, totally satisfied with the energy saving appliances of the Universal Door & Equipment Ltd. Will recommend this company with confidence. You're the best, see you soon! "