Universal Door & Equipment Ltd.
All Types of Doors &
Dock Levelers
Est. 1974
Retractable Dock Shelter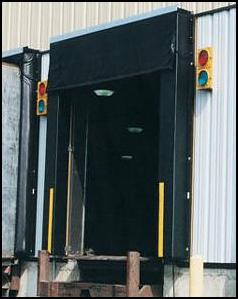 The Retractable Dock Shelter fits up to a 120"W x 120"H door. Independent spring loaded scissors mechanism allows shelter to retract with the trailer keeping the shelter square. The design also eliminates the need for rigid steel guide protectors. Overall size 132"W x 126"H x 24" projection. The 40 ounce reinforced vinyl flaps close the opening down to 90" x 90". The 36" header curtain has armor pleats for extended wear. Shelter is black with aluminum edge trim.
Copyright 2011 Universal Door & Equipment Ltd. | Overhead Doors Toronto
|
|
Universal Door & Equipment Ltd.
" Best experience ever! Universal Door specialists did a great job. We are 100% satisfied with their prompt and affordable service. Happy to recommend! "
— Bill Johnson, Toronto
5.0
5.0