Universal Door & Equipment Ltd.
All Types of Doors &
Dock Levelers
Est. 1974
Dock Seals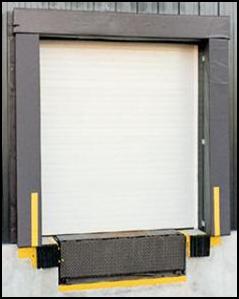 Your new dock seals accomplish more than provide energy savings. Thanks to the snug seal, it's easier to keep contaminants away from anything you have stored in the warehouse or compartment. The seals prevent minute traces of leaves, dust, and other airborne matter from entering the space and settling on raw materials or finished goods. During winter, those seals will prevent snow from entering the space around the upper door and creating puddles.
Dock seals and shelters are not as expensive or as difficult to install as many people think. We pride ourselves on helping clients find the perfect sealing solutions and ensure the installation is perfect.
Combines the advantage of low cost and excellent sealing action.
Designed for maximum energy savings with long-lasting features.
For use with an 8'W x 8'H or 8'W x 9'H door. Superior 22 oz. nylon reinforced vinyl facing has a higher tear strength than equivalent weight hypalon. Chemically sealed ends prevent moisture infiltration. Full height air escape tunnel. Mounted and bonded on durable wolmanized wood. 2" nylon reinforced guide stripes. Through the wall installation kits included. Three piece construction: top - 12" high; sides - beveled sides with 91⁄2" width at the wall and 12" width at the face. 5" maximum compression is recommended. Applications with a flush dock to building in conjunction with an Edge-O-Dock use a 20" projection Dock Seal.
Copyright 2022 Universal Door & Equipment Ltd. | Best Overhead Doors in Toronto
|
Universal Door & Equipment Ltd.
" Total satisfaction with the cost efficient equipment of this experienced company. Definitely, we will recommend them to friends and family. True professionals, all the best! "