Universal Door & Equipment Ltd.
All Types of Doors &
Dock Levelers
Est. 1974
Dock Shelters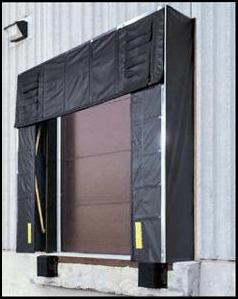 Why deal with the heat of summer or the cold of winter when there are trailers to load and unload. Choosing to use a combination of dock seals and shelters provides the best of both worlds. The seals allow you to arrange goods intended for shipment so they are nearby and ready to be loaded as soon as the trailer arrives. Once the trailer is backed to the top door and the the shelter is in position, there are no worries about hot or cold air flooding the space. Whether the materials are loaded or unloaded by hand, or whether a lift is used, the operators will find it comfortable to do their work.
For use with doors up to 10'W x 10'H. Reduces oversized doors to match truck opening. Long wear fabric is highly resistant to abrasion and tearing. Fiberglass staves are sewn into the flaps. Seal is formed along the sides and top of trailer when the vertical and top panels are pushed inward by the trailer. Recommend minimum 10" trailer penetration for a good seal. Supporting structure is made of 2 x 4 wolmanized lumber. Shelter is protected by safety yellow steel guide protectors. The top header piece measures 132"W and contains a drop curtain which measures 36"H. Two vertical pieces measure 126" tall with vertical flaps measuring 21"W. When installed the shelter will close door opening down to 90"W x 90"H opening (between flaps). Includes two yellow steel guide protectors and foam-filled corner pads for extra sealing action.
Copyright 2022 Universal Door & Equipment Ltd. | Best Overhead Doors in Toronto
|
Universal Door & Equipment Ltd.
" Such a convenient delivery option, we just received our order and were so happy with the high quality equipment of this experienced company. No doubt, we'll work with them in future. Wonderful job, thanks a lot! "