Universal Door & Equipment Ltd.
All Types of Doors &
Dock Levelers
Est. 1974
Manual Truck Latch Model ML-10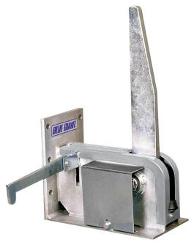 Complicated restraint equipment is not needed in many situations. You'll find that manual truck latches are especially helpful with smaller trailers and delivery vans. Thank to the rugged design and the simple operation, it's easy to use this restraint for one trailer, finish loading, and detach it for use on the next vehicle.
With so many different vehicle restraints on the market, choosing the right one can be confusing. Let us help you sort through the options and come up with a solution that's right for your business model. Contact our team and tell us more about the type of freight you receive and ship, the vehicles that different carriers use for those deliveries and shipments, and what other type of accessories you routinely use at your loading dock or area. With that information in hand, we can help you find restraints that will fit right in with the measures you already employ.
Simplicity of design, heavy-duty construction materials and no regular adjustments or lubrication requirements reflect on long-term low cost of operation. The ML-10 Mechanical Vehicle Restraint has restraining power of 20,000 (9,091kg) minimum. with the ML-10, the loading dock attendant controls safety and productivity quickly and efficiently with a single detachable control rod.
Copyright 2022 Universal Door & Equipment Ltd. | Best Overhead Doors in Toronto
|
Universal Door & Equipment Ltd.
" We've made another order and are totally satisfied with the long-lasting machines of this company. Will for sure be using them again. Amazing results, a million thank to you! "