Universal Door & Equipment Ltd.
All Types of Doors &
Dock Levelers
Est. 1974
Hydraulic Vehicle Restraint TL-85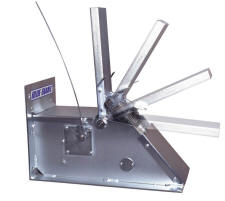 The patented Model TL-85 Vehicle Restraint technology centers around a non-impact "swing-up" arm design that is designed to confine a vehicles rear impact guard or ICC bar. Vehicles remain safely stationed at the dock without time consuming and uncertain chocking.
Restraint Systems service the widest range of trucks with rear impact guards to 29" (737mm) above ground and horizontal ranges to 12" (305mm) beyond the face of the dock. Problems with bent ICC bars, lock-up from hook and impact design restraints are eliminated.
Copyright 2011 Universal Door & Equipment Ltd. | Overhead Doors Toronto
|
|
Universal Door & Equipment Ltd.
" Best experience ever! Universal Door specialists did a great job. We are 100% satisfied with their prompt and affordable service. Happy to recommend! "
— Bill Johnson, Toronto
5.0
5.0